Dr. Steven Bailey: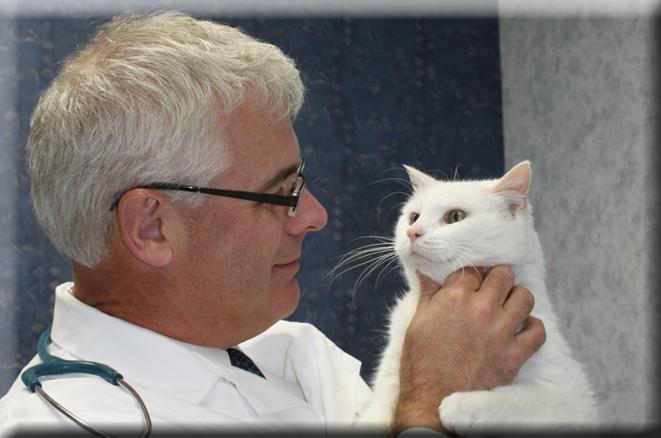 Dr. Steven J. Bailey founded Exclusively Cats Veterinary Hospital in 1992. He obtained his Bachelor of Science and Doctorate in Veterinary Medicine from Michigan State University in June of 1986. After graduation, Dr. Bailey practiced emergency medicine for 8 years prior to establishing Exclusively Cats. Dr. Bailey is one of two veterinarians in the state of Michigan and the only veterinarian in Southeastern Michigan that has been board certified by the American Board of Veterinary Practitioners as a Feline Specialist (ABVP). His special interests include complicated medical and surgical cases as well as critical care, advanced dentistry, and behavioral medicine. Dr. Bailey is an active member of the American Association of Feline Practitioners (AAFP), and the American Veterinary Medical Association (AVMA).
Dr. Bailey is currently the acting President of the Southeastern Michigan Veterinary Medical Association (SEMVMA), and a Board Member of the Michigan Veterinary Medical Association (MVMA). He is also an Associate Editor of the Feline Internal Medicine Board on the Veterinary Information Network (VIN), invited member of VMG #18 (The only feline exclusive Veterinary Management Group) and MOM's group (Macomb/Oakland Management Group). In his free time, Dr. Bailey is an avid kayaker (some may even call him "obsessed") and an instructor in both canoe and kayaking sports. He also enjoys running and spending time with his family. Dr. Bailey and his wife Liz have 2 adult children, Christopher and Kayla, and 2 cats, Sapphire and Lacey.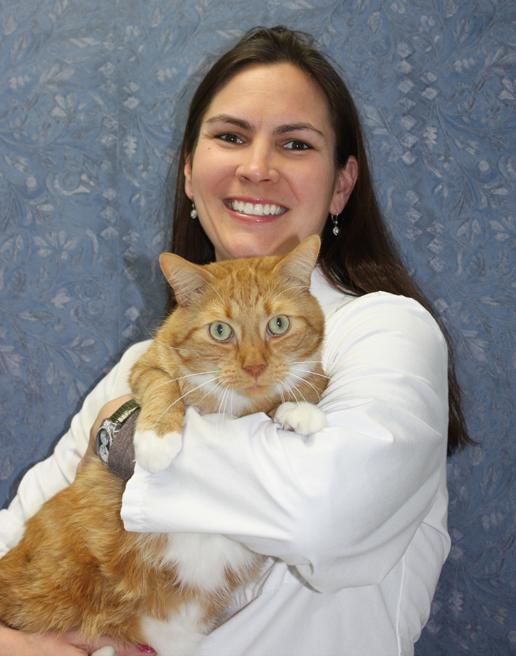 Dr. Toni Brooks:
Dr. Toni S. Brooks obtained her Bachelor degree in Sociology from Arizona State University in 1996. She obtained her Doctorate in Veterinary Medicine with honors from Michigan State University in May of 2002. She joined Exclusively Cats in August of 2002. Her special interests include pain management, surgery, internal medicine, dentistry and in her words, "anything that oozes".
Dr. Brooks is an active member of the American Association of Feline Practitioners (AAFP), American Veterinary Medical Association (AVMA), and is a current council member of the Southeastern Michigan Veterinary Medical Association (SEMVMA). In her free time, Dr. Brooks enjoys yoga, running, boating and spending time with her family; including their cats Cheddar, Ernest and Fletcher and their dog, Shorty.
Lauren E. Demos BVMS, HonsBSc

Dr. Demos grew up in Green Bay, Wisconsin. Dr. Demos graduated Summa Cum Laude from Northern Illinois University with an undergraduate focus in acoustical physics, jazz performance, and computer music, and was a four-year recipient of the prestigious Northern Illinois University Scholar Award. She subsequently attended Murdoch University in Perth, Australia, performing post-graduate research on feline papillomaviruses and earning her Bachelor of Veterinary Medicine and Surgery. Her research was published in Veterinary Dermatology October 11 2013, and we have provided a link to the abstract on PubMed.:

Papillomavirus-associated multicentric squamous cell carcinoma in situ in a cat: an unusually extensive and progressive case with subsequent metastasis.

As a student Dr. Demos sought out a number of internationally respected feline clinics in the U.S and Australia for externship experience (including Exclusively Cats). In her final year of vet school, she elected to pursue advanced studies in feline medicine at our practice. After graduating from Murdoch University Dr. Demos practiced as an associate veterinarian at a feline clinic in Wisconsin prior to her return to Michigan.

Dr. Demos has always had a strong attraction to feline medicine. Her particular interests in feline medicine include cardiology, infectious diseases and dentistry. In January 2014, Dr. Demos will officially start her residency in Feline Practice. Our feline residency program is one of only five available in the world!

She is passionate about promoting feline health and medicine through education and has lectured at local and international conferences. She enjoys sharing her knowledge with others, and during vet school, she assisted in teaching various courses to veterinary students. Most recently, she was selected to represent the American Association of Feline Practitioners as their Future Leader at the 2013 American Veterinary Medical Association Leadership Conference, and has continued on their Board of Directors in an inaugural executive board internship.

In her spare time, she enjoys relaxing with her clowder of six cats (Dragon, Dude, Mia, Haku, Mayday and Nomad). Alternately she enjoys running marathons, mountain biking, surfing, and kayaking.